2010 Inaugural Golf Tournament
13/10/2010
As the Foundation set about establishing a calendar of events, the inaugural golf tournament was played on the St Clair course in Dunedin. A field of 92 assembled for the event with the weather fine and the course in superb condition.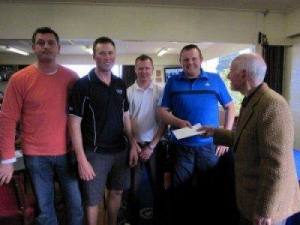 All 18 holes were sponsored, a number of prizes were donated and a profit for the day of just under $6000 was recorded.
Our thanks to our hole sponsors – Dunbar Orthopaedics Ltd; Mr Simon McMahon (Orthopaedic Surgeon); Dr John Greaves & Keith Newton (Mornington Health Centre); Assoc Prof Patrick Dawes (Otolaryngology Head and Neck Surgery, University of Otago); Dr David Peart (Ophthalmologist); Sport Otago, Dr Alan Wright (Southern Neurology Ltd); Assoc Prof Jim Reid (RMC Medical Research Ltd); Orbit Corporate Travel; Forsyth Barr Ltd; Parker Warburton Team Architecture; Silicon Coach; Deloitte; Southern Colour Print; Dr Brian McMahon; Oceanagold Ltd; Body Synergy Gym; Speights Brewery.
Prizes were donated by Remarkable Golf Tours (Queenstown); Rydges Lakeland Resort (Queenstown); Dr Jenny McMahon; Wattyl New Zealand; The Rugby Channel (Sky Television); Southern Honda; Speights Brewery; Liquor King Hillside; Cadbury Confectionery.
Closest to the pin
4th – Brent McEwan
7th – Geoff Laney
13th – Bruce Hodgson
16th – Ken Rust
Longest drive (18th fairway): Robert McIntosh
Team prizes:
1st – Forsyth Barr Ltd (playing off a handicap of 5.75 and finishing with a nett score of 54.25)
2nd – Sport Otago (4.625, 54.375)
3rd – The Radio Network (9.25, 55.75)
4th – Dr David Peart (10.25, 55.75)
5th – Arron Campbell (9, 56)
6th – Speight's Brewery (4.125, 56.875)
7th – Silicon Coach (9, 57)
8th – Oceana Gold (9.5, 57.5)
9th – Southern Colour Print (8.5, 57.5)
10th – Southern Neurology (9.75, 58.25)