2012 OceanaGold Golf Tournament
13/10/2014
The weather gods again smiled on the Foundation as it hosted its third annual golf tournament on the St Clair course in association with OceanaGold in early October.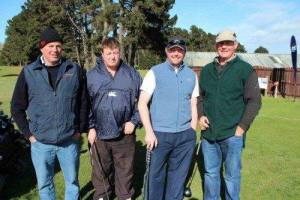 After several days of poor conditions the clouds parted and the field of 100-plus players enjoyed sunny, warm and calm conditions.
And the backing of OceanaGold as the naming rights' sponsor, our show hole sponsor, Armstrong Prestige, all other hole and prize sponsors, separate team entries, a number of other supporters and the enthusiasm with which the players supported our raffle and the selling of 'mulligans' resulted in a profit of almost $22,000 from the day.
Those funds will be directed into the OceanaGold research grant, identified and allocated in May 2013. Money raised at the 2011 event was invested into an investigation into why diabetic women are more prone to heart disease with the results of that study sure to lead to earlier diagnosis and a more effective treatment strategy.
Supporting the OceanaGold and Armstrong Prestige commitment were our hole sponsors and the Foundation acknowledges their enthusiasm. Our thanks to Silicon Coach, Orbit Corporate Travel, Dr John Greaves and Keith Newton (Mornington Health Centre), Speight's Brewery, Dr Patrick Dawes, Dr David Peart and Mr Andrew Swan, Forsyth Barr, Mitchells Tavern, Deloitte, Dr Alan Wright, Palmers Mechanical, Body Synergy Gym, Sport Otago, Mr Simon McMahon, Southern Colour Print, the Southern Trust and Newstalk ZB.
Our appreciation is also extended to our prize and refreshment sponsors, and others who played a part in the success of the day – Dr Jenny McMahon, Dr Brian McMahon, Orbit Corporate Travel, Aravin Central Otago, Dunedin Venues, Valspar Paints New Zealand, Neil Metcalfe (St Clair pro shop), Speight's Brewery, Cadbury Confectionery, Rialto Cinemas (Dunedin), Henry's Beer Wines & Spirits, Rockburn Wines, Gardens New World, Craft Bar, Body Synergy, Paper Plus Dunedin, Bunnings Warehouse Dunedin, Otago Cricket, Luna Bar & Restaurant, Scotia Bar & Bistro, Kmart Dunedin, Mitchells Tavern, Sharpies Golf (Alan Rose) and the Bendigo Valley Sports & Charity Foundation and the Otago Division of the Cancer Society.
There were also a number of team entries and their support was also appreciated – our thanks to Ken and Liz Dempster, Dave Sharp, the Cameron Brothers, Gardens New World, Highland Real Estate Group, John Cutler, Opus International Consultants and Dunedin Venues.
There were a number of twists to the prize-giving with the Orbit Corporate Travel team winning the company's own travel vouchers, the Forysth Barr quartet taking home passes to an event of choice at the Forsyth Barr Stadium, two of Body Synergy gym owner Rowan Ellis' brothers being part of the Palmers Mechanical team which won memberships to Body Synergy, and the OceanaGold # 2 team taking top honours in the tournament to which the company has naming rights.
The day's results were –
Closest to the pin – 4th; Mark Andrews, 7th; James Smith, 13th; Callum Stringer, 16th; Kieran Gavegan.
Longest drive – 2nd; Brent Reid.
Straightest drive – 14th; Peter Hills
Fastest drive (ball speed) – 10th; Mark Patterson 305 kph
Team results:
1st – playing off a team handicap of 9.4, net score of 52.6 – OceanaGold# 2
2nd – 5.125, 52.875 – Palmers Mechanical
3rd – 7, 53 – Forsyth Barr
4th – 6.75, 53.25 – Deloitte
5th – 8.625, 54.375 – Mitchells Tavern
6th – 3.625, 54.375 (on count back) – Sport Otago
7th – 4.5, 54.5 – Orbit Corporate Travel
8th – 7.125, 55.875 – Otago Medical Research Foundation
9th – 6.12, 55.88 – Whatsoever Ltd
10th – 8, 56 – Highland Real Estate
11th – 4.375, 56.625 – the Cameron brothers
12th – 6.625, 57.375 – Dr Alan Wright
13th – 12.375, 57.625 – The Radio Network
14th – 8.5, 60.5 – Matt Richardson group
15th – 7.25, 60.75 – Brian Murray group