2013 OceanaGold Golf Tournament
13/10/2013
Low scoring was the order of the day at the Foundation's annual golf tournament on the St Clair course in association with OceanaGold in early-October.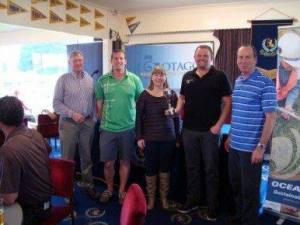 In near-perfect conditions and with the St Clair course in magnificent condition, birdies were the norm as the field of 100 players banded together to raise funds for the Foundation's annual research grants' allocation.
OceanaGold continued its strong support as the naming rights' sponsor, all 18 holes were sponsore and there were a number of team entries. With prizes being donated and a number of other supporters also involved, and with the 'mulligans' and raffle selling well, a profit of just under $18,500 was made on the day.
Those funds will be directed into the OceanaGold research grant, identified and allocated in May 2014. Money raised at the 2011 event was invested into an investigation into why women are more prone to diabetic heart disease while the proceeds from the 2012 tournament has launched a study five years after diagnosis.
Supporting the OceanaGold commitment were our hole sponsors and the Foundation acknowledges their enthusiasm. Our thanks to Silicon Coach, Orbit Corporate Travel, Dr John Greaves and Keith Newton (Mornington Health Centre), Speight's Brewery, Mr Simon McMahon, Dr Alan Wright, Dr Patrick Dawes, Dr David Peart and Mr Andrew Swan (all Marinoto Clinic), Forsyth Barr, Mitchells Tavern, Deloitte, Palmers Mechanical, Body Synerg, Sport Otago, Southern Colour Print, Newstalk ZB, Craigs Investment Partners and Hong Kong and Shanghai Banking Corporation.
Our appreciation is also extended to our prize and refreshment sponsors, and others who played a part in the success of the day – Dr Jenny McMahon, Dr Brian McMahon, Orbit Corporate Travel, Aravin Central Otago, Dunedin Venues, Valspar Paints New Zealand, Neil Metcalfe (St Clair pro shop), Cadbury Confectionery, Rialto Cinemas (Dunedin), Henry's Beer Wines & Spirits, Rockburn Wines, Gardens New World, Craft Bar, Body Synergy, Paper Plus Dunedin, Bunnings Warehouse Dunedin, Otago Cricket, Luna Bar & Restaurant, Scotia Bar & Bistro, Sky's Rugby Channel, Forbury Park Trotting Club and Polson Higgs.
There were also a number of team entries and their support was also appreciated – our thanks to Ken and Liz Dempster, Dave Sharp, Opus International Consultants and Lab Supply Ltd.
The day's results were –
Closest to the pin – 4th; Tom West, 7th; Matthew Smith, 13th; Colin McNaught, 16th; Chris Timms
Longest drive – 18th; Andrew Cessford
Straightest drive – 14th; Richard Roberts
Team results:
1st – playing off a team handicap of 8, net score of 53 – Forsyth Barr
2nd – 8.375, 53.625 – Mitchells Traven
3rd – 1, 54 – Sport Otago (16 birdies off the tee!!)
4th – 5.25, 55.75 – Orbit Corporate Travel
5th – 6.125, 55.875 – Deloitte
6th – 7, 56 – Dr Alan Wright's team
7th – 6.75, 56.25 – Gardens New World
8th – 5.625, 56.375 – WhatsoEver Ltd
9th – 5.25, 56.75 – Palmers Mechanical
10th – 7.375, 57.625 – Body Synergy