Chelsea Winter helps raise significant funds
06/11/2015
Chelsea Winter, MasterChef New Zealand winner in 2012, wowed a sell-out crowd of 300 in early-November and raised significant funds for the Otago Medical Research Foundation in the process.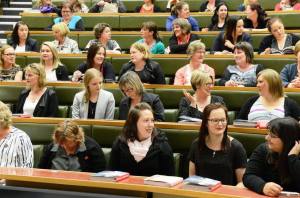 Funds generated through ticket sales were donated to the Foundation's 2015/2016 summer research scholarship programme by John and Jacqui Brenssell from Paper Plus Dunedin. Scholarship recipient Bhamini Rangnekar (under the guidance of Dr Shyamal Das, University of Otago School of Pharmacy) will use her funding to bring together two currently effective drugs to use in a spray form as a new treatment of pulmonary tuberculosis (TB).
TB is becoming something of a global epidemic again with one-third of the world's population infected, three-quarters of those cases localised in the lung (pulmonary TB).
Chelsea was in Dunedin at the end of her national tour promoting her latest best-selling cook book Homemade Happiness. She delivered a bright and breezy precis of her time with MasterChef and how her life changed through that experience.
Amid the laughter Chelsea's husband Mike arrived almost straight off a long overseas trip, guests won prizes for knowing some of her favoured recipes and the queue to have Homemade Happiness signed stretched for more than an hour.
Image credit: Otago Daily Times