Golf Tournament 2018
25/09/2018
For the ninth straight year, the Foundation's golf tournament out-manoeuvred the weather gods with the first three hours of the 2018 event played in near-perfect conditions on the St Clair course.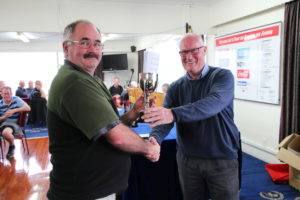 While the wind blew for the last hour, the rain stayed away until everyone was safely in the clubhouse. A chilling southerly blast then descended upon Dunedin with heavy rain and strong winds for much of the next 12 hours.
A field of 25 teams contested the tournament with this year's event played under Shamble rules, leaving players more responsible for their own form than in a normal ambrose competition. There was certainly additional spice added on the putting greens and those who bought Mulligan's re-play added great value to their team.
Dr Alan Wright's team adapted the best of those on-course, winning by more than half a point from the second-placed Palmers Mechanical team. The OceanaGold NZ # 1 side was a further point back in third spot.
More than $21,000 was raised on the day, this to be directed towards a research project to be launched, under the OceanaGold NZ name, next year. OceanaGold NZ has been the tournament's major naming-rights' sponsor for the last eight years.
Funds raised at last year's tournament have been directed into a study by Professor Iain Lamont & Dr Kay Ramsay (from the Dunedin School of Medicine's Biochemistry department) looking at how better to manage antibiotic use by those suffering cystic fibrosis, which is a debilitating lung and digestive system condition making breathing difficult and where those afflicted are subject to infection and digestive problems. It seems long-term antibiotic use can inflame these problems rather than improve them. This study will have implications for improved antibiotic treatment management for those with cystic fibrosis – and, which is the optimum outcome for research, a greater quality of life.
It was a great day out and planning is already underway for the 2019 tournament, which will celebrate the 10th anniversary of the inaugural event in 2010.
As well as the tournament's naming rights' sponsor OceanaGold, our hole sponsors played a significant role in the success of the day and the Foundation acknowledges the support and enthusiasm of the Tarn Group, Unichem Mornington Pharmacy, RPB Law, Mr Patrick Dawes and Dr Alan Wright (from the Marinoto Clinic), Deloitte, Palmers Mechanical, Southern Colour Print, Craigs Investment Partners, McDonald's Dunedin, Forsyth Barr, Polson Higgs, RD Petroleum, Myers Marketing, Vault 21, Fulton Hogan, ANZ Private Banking and McMahon Medical.
Our appreciation too to our prize and refreshment sponsors and others played a major part: Calder Stewart Industries, Dr Brian McMahon, Dr Jenny McMahon, Maher Shoes, Patrick Moore (the pro at St Clair), Aravin Central Otago, Gardens New World, the Dunedin Casino, John Griffin at Jack's Point, Mitchell's Tavern, helloworld Dunedin, HSBC, Armstrong Prestige, the Brothers Hotel, Rockburn Vineyard, Farmers, Misha's Vineyard and McDonald's Dunedin.
And there were also a number of team entries whose support is also appreciated: Ken & Liz Dempster, Dave Sharp's WhatsoEver team, Dean Delaney (Select Recruitment), Neil Lyons (Signature Property), Mike Bird, Heath Johnson, Grant Sime and an additional Fulton Hogan team, and a very fine collection of gentlemen representing the Foundation.
Full results from the 2018 tournament are:
Closest to the pin – 4th: Kris Ellis; 7th: Adam Gain; 13th: Peter Young; 16th: Adrian Cross.
Closest to the pin in the 11th with the second shot: Connor Ross.
Long putt winners: Chris Timms, Mark Harper, Hayden Preston, Tony Williamson.
Team prizes:
12th: Mornington Pharmacy/RPB Law
11th: Craigs Investment Partners
10th: Forsyth Barr
9th: Whatsoever Ltd
8th: Fulton Hogan # 2
7th: Myers Marketing
6th: Heath Johnson
5th: RD Petroleum
4th: Otago Medical Research Foundation
3rd: OceanaGold NZ # 1 (playing off a handicap of 9 and finishing with a nett score of 56)
2nd: Palmers Mechanical (playing off a handicap of 4.125 and finishing with a nett score of 54.875)
1st: Dr Alan Wright (playing off a handicap of 8.75 and finishing with a nett score of 54.25)