Heritage Day a huge success
15/09/2016
For the second year running the success of the C'mon OTAGO $1 a point rugby promotion has opened the way for the establishment of an additional summer research scholarship in the Foundation's annual allocation.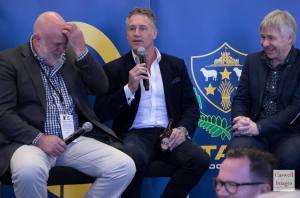 C'mon OTAGO members pay $1 for each point the Otago rugby side scores in the Mitre 10 Cup along with an additional $20 each time the team wins. With Otago victorious in its first six games this year and then hosting the championship final, the $350 threshold was reached very quickly.
At the end of the season a draw was held where five members were successful in winning double tickets to next year's Highlanders vs the British & Irish Lions match at the Forsyth Barr Stadium – the lucky quintet were Russell Fowler (Stirling Sports Dunedin), Trevor Hastie (International Freight Logistics), Fred Daniel (Montecillo War Veterans Home) and Dr Brian McMahon and Dr Jenny McMahon (McMahon Investments) whose names were pulled separately from the hat. Brian and Jennyvery kindly donated their tickets back to the Foundation for use in the auction at next year's annual dinner and with the game almost sold out already, they'll be highly sought-after.
And the naming rights of the 2016/2017 summer research scholarship launched as the result of the funds raised through this year's scheme were won, in the draw, by Sharon Hyndman (Metro Realty).
The scholarship recipient is Sashika Samaranayaka who will study the relationship between polypharmacy (the practice of a patient taking four or four medications) and hospital admissions among end-stage kidney disease patients. There is much debate over whether polypharmacy is beneficial or burdens the patient and the health system.