A Night To Remember 2019
Date and Time
Monday the 18th February
Venue
Dunedin Town Hall
191 Moray Place
Dunedin 9016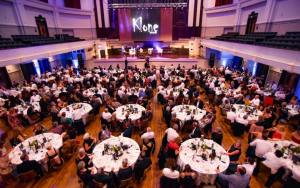 A Night to Remember 2019, the Otago Medical Research Foundation's seventh annual black-tie fundraising dinner, hosted in the Dunedin Town Hall on the 15th on February, was an outstanding success.
A record of $121,000 was raised to support our work in launching catalyst research projects and summer scholarships. Last year we celebrated 50 years of successful research funding.
It was a terrific night and our thanks go to our sponsors, those who donated items to auction and raffle prizes, those who bid successfully in the auction, and all who attended. For photos from the night go to SeenInDunedin.co.nz
The 450-strong crowd listened in awe as Professor Parry Guilford outlined the advances in medical discovery in recent years; were surprised as the Minstrel reeled off 177 New Zealand place names; were amazed by unusualist Raymond Crowe and his mix of ventriloquism, magic, illusion and finger puppetry; totally enjoyed the performance of auctioneer Rob Fowler; and then sang and danced for two hours with DJ Matty T.
Next year's dinner is set for Valentine's Day (February 14th) and table bookings are already under way. We might go red!